Netskrt Edge Caching for Inflight Entertainment & Communications
Give passengers their favorite live and on-demand streaming services
Netskrt Extreme Edge Caching Provides Full Streaming Video Access for Airlines
Consumers continue to cut the cord on cable and broadcast TV in favor of streaming video services for movies, shows, and now, live content – news, sports, concerts, and more. With plenty of on-ground bandwidth and powerful mobile devices, people expect to enjoy their streaming services anytime, anywhere. At the same time, content producers are shrinking early release content windows, making it harder for airlines to satisfy passengers with licensed blockbuster movies.
Even if airlines want to give passengers unfettered access to streaming video, in-air bandwidth is a problem. Satellite services improve capacity, but aside from the cost, the bandwidth is still far below what consumers enjoy on the ground.
How airlines can add streaming video to their IFECs
Making on-demand and especially live streaming video available to  hundreds of passengers will quickly overwhelm even the best satellite connection. How, then, can airlines add streaming video to their IFECs to provide passengers with an excellent in-flight experience – without sacrificing services such as email and browsing, and without exceeding already-tight budgets?
The answer is Netskrt's edge content delivery network (eCDN), which puts innovative caching at the extreme edge – aircraft in flight. Netskrt eCDN is a new video streaming solution for airlines – the only one that lets airlines provide their passengers with access to on-demand and live streaming video services on their personal devices or in seatbacks.
Title & network-aware caching
Using title- and network-aware caching, the Netskrt eCDN significantly reduces in-air bandwidth requirements and intelligently manages content on the ground and in flight to ensure high-quality viewing without runaway internet access costs. It complements all existing communication networks and 4G/5G mobile, Satcom, and point solutions to enable gigabit/s video streaming over the existing onboard Wi-Fi. This proven solution, offered as a managed service, can be easily integrated into existing or new IFEC systems, to start delighting customers today.
Consumers want their streaming services everywhere
Streaming is here to stay
As of July 2022, streaming officially surpassed cable and broadcast TV, and with more than 90% of American adults accessing streaming services, it's no secret that consumers love their streaming video. And it's not going away. Video makes up two-thirds of all internet traffic and is growing by nearly 25% annually. As consumers have gotten used to having high-speed connectivity almost everywhere, they now expect to be able to watch their personal streaming services – even when they travel.
Airlines need to differentiate their in-flight entertainment
The days when passengers were excited by early-access blockbuster movies is in the rearview mirror as studios simultaneously release movies in theaters, on their own or partner streaming platforms, and to airlines. With so much excellent streaming content available, passengers may be more interested in continuing a series they're watching than a new movie they've already seen.
Giving passengers access to their own personal streaming subscriptions, whether on their own devices or seatback screens, can help airlines enhance their IFEC offerings and control costs, while providing an "at home" viewing experience and opening the door to new revenue opportunities. But bandwidth to aircraft isn't set up to meet the capacity required by streaming video.
Delivering full access to streaming video is a challenge
Internet connectivity for aircraft has been constrained by the availability and limited bandwidth of cell towers for air-to-ground (ATG) implementations, prompting more airlines to turn to satellite. And  while satellite offerings can provide upwards of 20 Mbps capacity to an aircraft, that pales in comparison to typical bandwidth on the ground that ranges from nearly 80 Mbps for mobile to over 200 Mbps for fixed broadband.
With an individual HD stream consuming up to 6 Mbps for one viewer, even a small portion of passengers trying to stream onboard can immediately consume all the available bandwidth, leaving everyone frustrated. Other passengers find themselves unable to check email or social media, browse the web, or access new revenue-generating offerings the airline may wish to present.
Extreme edge caching can make onboard streaming feasible
Airlines and their IFEC partners can now  implement an innovative new solution – extreme edge caching – to enhance onboard Wi-Fi performance and support full access to streaming video, while retaining bandwidth for other online activities. This allows airlines to:
Give all passengers access to their own streaming services without limitations, improving passenger experience and satisfaction
Grow onboard consumption to hundreds of terabytes of content per month, while stabilizing satellite data demands
Add new revenue opportunities through advertising, onboard shopping, and personalized content
What is extreme edge caching for IFECs?
Delivering high-performance internet access at 30,000 feet is constrained by inconsistent cell tower connectivity on the ground, and the cost, availability, and limited bandwidth of satellite offerings.
Extreme edge caching brings a proven technology – content delivery networks (CDNs) – to aircraft and other remote and hard-to-reach points on the internet. Website owners and software companies have been using CDNs to bring content close to the customer for decades. Streaming video platforms have also recognized the benefits of CDNs for improving video delivery and subscriber viewing experiences.
But traditional CDNs can't reach many places due to network constraints and the economics of deploying them to small or remote communities of people such as airline passengers. Netskrt invented extreme edge caching and its key components – title-aware caching and network-aware content management – to meet these technical and economic challenges.
Extreme edge caching manages the complexities of delivering live and on-demand streaming video to consumer devices and seatback screens in flight, while making the most effective use of available bandwidth. This innovative approach to caching, paired with title- and network-aware content delivery, predictively loads and stores popular content in onboard edge caches.The majority of content is updated on the ground when lower-cost, reliable connectivity is available. Only uniquely requested or live content needs to load while the aircraft is in flight.
What is the Netskrt edge Content Delivery Network (eCDN)?
The Netskrt eCDN is the only solution that lets airlines give passengers the content they want, when they want it – including live and on-demand streaming video. The Netskrt eCDN goes beyond deep edge caching to serve the extreme edge.
Consisting of a reliable and affordable onboard cache that is title- and network-aware and cloud based content delivery, the Netskrt eCDN predicts viewing demand and ensures the content passengers want is onboard, without exceeding in-flight bandwidth availability.
Title aware – dynamic, title-aware predictive edge caching loads content on the ground for viewing by all passengers, instead of waiting for viewer requests in the air that generate multiple individual streams
Network aware –  dramatically reduces the use of costly satellite capacity by loading and updating content into onboard cache on the ground, and optimizing in-air updates.
Delivers VOD and live streaming – serves video requests from onboard cache instead of individual streams, giving passengers high-quality viewing of their own streaming services, without impacting other flyers' email or web browsing.

VOD – More than 90% of on-demand requests can be loaded in advance and served from the onboard cache.
Live – Uses up to 95% less bandwidth, while allowing each passenger to independently pause, rewind, and fast-forward their own live content.

Easy to deploy and manage – compact solution integrates smoothly with existing IFECs, is designed to work seamlessly with existing networks, and uses existing Wi-Fi to access the onboard cache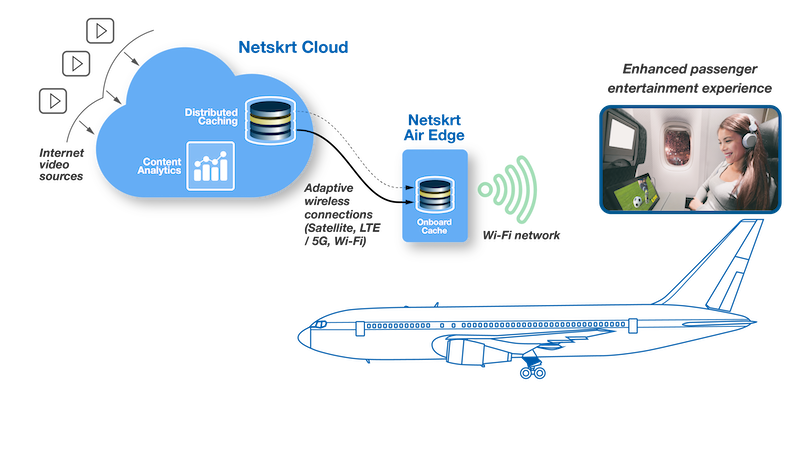 Why choose Netskrt eCDN for your IFEC?
Deliver the full streaming video experience your passengers want
With Netskrt's onboard cache as part of their IFECs, airlines can let passengers watch their favorite live and on-demand streaming services on all their devices or seatback displays, and still support other inflight services including email, web browsing, and social media. Every passenger gets an excellent inflight entertainment experience.
Leverage existing bandwidth
Make the most of limited in-air bandwidth
Regardless of how many passengers watch the same content, each title only streams once to the onboard cache, which reduces the bandwidth required to support live streaming by up to  95%. On-demand content is stored onboard and regularly updated when high-bandwidth connections are available on the ground.
Explore new revenue opportunities
With the addition of live and on-demand streaming video, along with highly optimized connectivity, airlines can look at new ways to engage passengers and create new revenue streams. Advertising, onboard shopping, and partnerships with streaming platforms are all emerging opportunities for airlines to turn IFECs from cost centers into profit centers.
Delight passengers and control costs
Netskrt eCDN lets you give passengers the content and device choices they want for an excellent in-flight experience. At the same time, you can control both content and communications costs and uncover new ways to generate revenue.